Dr. Hansra
I always tell patients, family, and friends: if you eat a balanced diet that includes a variety of fruits and vegetables you can minimize the number of artificial supplements and vitamins you take as food contains all the nutrients you need to be healthy. Don't like vegetables? No problem. Here is a simple recipe for fruit and vegetable juice that is easy to make and contains an abundance of nutrients. I call it the #superjuice.




Ingredients (serves 6)
1) Fresh squeezed organic orange juice, 3 cups/48 oz.
2) Uncooked baby spinach, 5 oz./142g
3) Small bag of frozen mango (also blueberries, strawberries, mixed berry blends well), 12 oz./340g
Instructions
1) Wash baby spinach and put in blender
2) Put the orange juice and mango chunks in the blender (or add your favorite berries)
3) Fill the remainder of the container with purified water
4) Blend until smooth consistency achieved
Nutritional value
1) Calories per 8 oz. serving = 95 (18 grams of sugar per serving)
2) Calcium 43mg/4% (Calcium is a mineral essential for bone health, nervous system, heart function, muscular function)
3) Iron 1 mg/5% (Iron is a mineral essential for maintenance of red blood cells)
4) Potassium 468mg/14% (Potassium is a mineral and electrolyte important in regulating blood pressure, water balance, muscle function, nerve function, heart rhythm)
5) Vitamin A 2902mg/57% (Vitamin A important for vision, immune function, organ function)
6) Vitamin C 84mg/140% (Vitamin C important in immune function, skin health)
7) Fiber = 2 grams
8) Significant amounts of Folic acid (Vitamin B9 important for blood cells, cell function and tissue growth)
9) Significant amounts of Vitamin K (Vitamin K important in blood clotting)
"All the nutrients you need comes from food" #Smartandeasyhealth
Why make your own juice?
This is a great way to get more vegetables into your diet. Even my kids will drink this since it tastes great (that's why its a super juice!). Spinach is only one of many examples of beneficial vegetables that promotes health and wellness. Spinach is great in drinks since it blends smoothly and it is relatively tasteless and does not give off a "leafy" or "grassy" aftertaste many blended veggies do. Spinach is loaded with vitamins, minerals, and other beneficial molecules ( phytochemicals and bioactives) that promote health beyond basic nutrition (1). The chemicals found in spinach have anticancer (1-4), anti-obesity (1,5,6), anti-diabetic (1,6), lipid lowering (1,5,6), cardio protective (1,6-8) benefits. Adding orange juice to spinach not only adds plenty of immune boosting vitamin C, but it also enhances the absorption of iron which can help prevent anemia (9).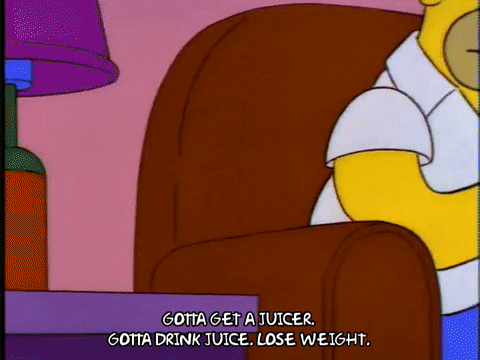 What's wrong with "juice"?
Fruit juices lack fiber and they are loaded with sugar (10,11). For example 12 oz. (350ml) of Coca Cola has 140 calories and 40 grams of sugar vs. apple juice has 165 calories and 39 grams of sugar (10). Fruit juice consumption is linked to obesity (11), cardiovascular disease (12) and risk of dying from coronary heart disease (13). Also of concern, Consumer Reports found many fruit juices contain potentially harmful levels of arsenic, cadmium, and lead (14). By making your own juice you would have greater control over what you and your family consume, add beneficial ingredients that would favor your health, and potentially minimize the amount of artificial supplements you take. The #superjuice is only one example and I encourage you to shop the grocery isles and local farmer's markets to find a variety of fruits and vegetables that you and your family enjoy.
Making you own juice will add a variety of nutrients, fiber, and other beneficial molecules to enhance your overall health and well being" #Smartandeasyhealth
References
1) Roberts JL, Moreau R. Functional properties of spinach phytochemicals and bioactives. Food Funct. 2016 Aug 10;7(8):3337-53.
2) Kirsh VA, et al. Prospective study of fruit and vegetable intake and risk of prostate cancer. J Natl Cancer Inst. 2007 Aug 1;99 (15): 1200-9.
3) Maeda N, Hada T, Yoshida H, Mizushina Y. Inhibitory effect on replicative DNA polymerases, human cancer cell proliferation, and in vivo anti-tumor activity by glycolipids from spinach. Curr Med Chem. 2007; 14(9):955-67.
4) Linnewiel-Hermoni K et al. The anti-cancer effects of carotenoids and other phytonutrients resides in their combined activity. Arch Biochem Biophys. 2015 Apr 15;572:28-35.
5) Panda V, Shinde P, Danda P. Consumption of Spinacia Oleracea (spinach) and aerobic exercise controls obesity in rats by an inhibitory action on pancreatic lipase. Arch Physiol Biochem. 2018 Sep 29:1-8.
6) Panda V, et al. Amelioration of Abnormalities Associated with the Metabolic Syndrome by Spinacia oleracea (Spinach) Consumption and Aerobic Exercise in Rats. Oxid Med Cell Longev. 2017; 2017:2359389.
7) Panda V, et al. Cardioprotective potential of Spinacia Oleracea (spinach) against isoproterenol-induced myocardial infarction in rats. Arch Physiol Biochem. 2019. Sep 14:1-10.
8) Jovansovski E, et al. Effect of Spinach, a High Dietary Nitrate Source, on Arterial Stiffness and Related Hemodynamic Measures: A Randomized, Controlled Trial in Healthy Adults. Clin Nutr Res. 2015 Jul; 4(3):160-167.
9) BBC News. Getting the best out of your food. https://news.bbc.co.uk/2/hi/health/4777607.stm. Accessed December 1, 2019.
10) Healthline. Fruit Juice is Just as Unhealthy as a Sugary Drink. https://www.healthline.com/nutrition/fruit-juice-is-just-as-bad-as-soda. Accessed December 1, 2019.
11) Wojcicki JM, Heyman MB. Reducing Childhood Obesity by Eliminating 100% Fruit Juice. Am J Public Health. 2012 September; 102(9): 1630-1633.
12) Harvard Health Publishing. Sugary drinks linked to higher risk of dying from heart disease. Https://www.health.harvard.edu/heart-health/sugary-drinks-linked-to-higher-risk-of-dying-from-heart-disease. Accessed December 1, 2019.
13) Collin LJ, Judd S, Safford M, et al. Association of Sugary Beverage Consumption with Mortality Risk in US Adults. JAMA Netw Open. 2019;2(5)e193121.
14) USA Today. Fruit juices, for kids and adults, may include lead and other metals, study finds. Https://www.usatoday.com/story/money/business/2019/01/30/fruit-juices-may-have-harmful-levels-lead-arsenic-consumer-reports-study-finds/2719282002/. Accessed December 1, 2019.
Disclaimer:
As a service to our readers, Smart and Easy Health.com provides access to our library of archived content. Please note the date of last review on all articles. No content on this site, regardless of date, should ever be used as a substitute for direct medical advice from your doctor or other qualified clinician.